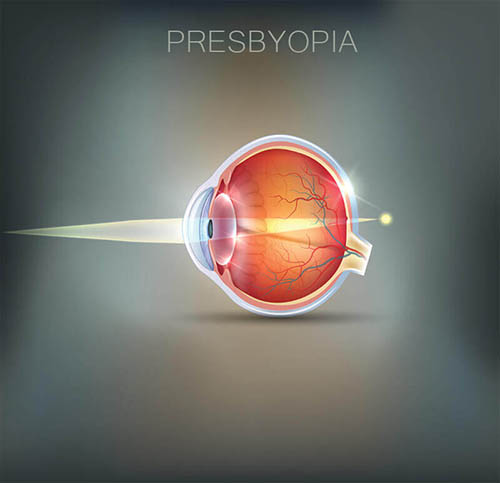 If you find yourself squinting to read small print or you need to move the menu farther from your face to read it, welcome to the world of presbyopia. While a perfectly natural part of aging, there are many different options for dealing with presbyopia, which the eye specialists at Pacific Eye provide at their offices in San Luis Obispo, Lompoc, Paso Robles, Pismo Beach, and Santa Maria, California, as well as Optical Concepts in Santa Maria. If you'd like to find alternatives to dimestore readers, call or schedule an appointment online today.
What is presbyopia?
If you've reached age 40 and find that your eyesight is starting to falter, especially when it comes to reading and focusing on objects that are close to you, it's likely that presbyopia is at play. The condition comes on as your lenses begin to harden with age.
Your eyes rely on your lenses to focus light sent from your cornea onto your retina. To help your lens focus, it has a small muscle surrounding it that tightens to see things up close and relaxes for distance viewing. As the muscle constricts and relaxes, your lens flexes accordingly.
With age, however, your lens begins to slowly lose its flexibility. As a result, your lens no longer changes shape as easily, which can hamper how you view things up close since that requires the most effort.
What causes presbyopia?
The primary culprit behind presbyopia is age. There are certain medical conditions that cause premature presbyopia, such as diabetes, multiple sclerosis (MS), and certain cardiovascular issues. Additionally, some drugs are associated with early onset of presbyopia, including diuretics, antidepressants, and antihistamines.
How is presbyopia diagnosed and treated?
To determine whether your vision problems are caused by presbyopia, your optometrist has a number of tools to measure how well you refract light. If they find that you have presbyopia, they discuss your treatments options, which may include:
Reading glasses
Bifocal corrective lenses
Contact lenses
Monovision LASIK
Corneal inlay
A new intraocular lens (IOL)
While most people simply resign themselves to wearing "readers," if you're in a position where your ability to view up close is important, or you simply don't like the idea of glasses, your optometrist reviews your options with you. For example, new surgical techniques that replace your lenses, which is the common treatment for cataracts, are viable solutions for presbyopia.
LASIK surgery also offers solutions for a host of vision problems, presbyopia among them.
If you'd like to better understand your options when it comes to presbyopia, call Pacific Eye or use online booking to schedule an appointment at one of their six offices in San Luis Obispo and Santa Barbara counties today.