Macular degeneration affects more than 10 million people in the United States and is the leading cause of vision loss. At Pacific Eye, with offices in San Luis Obispo, Lompoc, Paso Robles, Pismo Beach, and Santa Maria, California, as well as Optical Concepts in Santa Maria, the highly trained ophthalmologists are able to help men and women preserve their eyesight in the face of this degenerative disease. For more information, call or schedule an appointment online today.
What is macular degeneration?
Macular degeneration is a degenerative eye disease that affects your central vision. Your macula is the central area of your retina, which is responsible for visual acuity, meaning that it controls how you view detail in your central vision.
There are two main types of macular degeneration, dry and wet:
Dry macular degeneration
This is far and away the more common form of the eye disease and accounts for 85-90% of all cases. In this form of macular degeneration, the tissue in your macula begins to deteriorate, creating drusen, yellow deposits under your retina that interfere with your vision.
Wet macular degeneration
This less common form of the disease is characterized by abnormal blood vessel growth that leaks into your eye.
Both forms of macular degeneration are progressive and can cause permanent vision loss.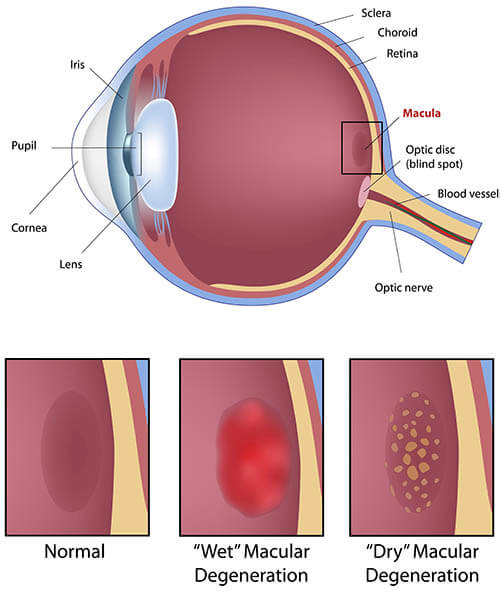 What causes macular degeneration?
Macular degeneration is often called age-related macular degeneration (AMD), which gives you a good idea of what the primary cause is of this disease. In fact, the prevalence of AMD in the United States is 1 in 14 in people over age 40, 1 in 8 over age 60, and 1 in 3 if you're 75 or older.
Outside of age, AMD is more common if you're white or a woman. There are also several factors that can put you more at risk of developing the eye disease, including:
Genetics
Obesity
High blood pressure (hypertension)
Smoking
LIghter eye colors
Medical researchers are still trying to find the exact cause of the disease, and AMD numbers are expected to rise with an aging population.
How is macular degeneration treated?
If you're starting to notice spots in your central vision, you should get in to see one of the ophthalmologists at Pacific Eye so they can check for signs of AMD.
There are some steps they can take to slow the progress of the disease if they confirm macular degeneration, especially if they catch it in the early stages. This is why regular comprehensive eye exams are so important. By making some key lifestyle changes and supplementing your diet, you can make a difference in the onset and progression of AMD.
If your disease has progressed and seriously impaired your vision, your doctor may suggest implanting a telescopic lens in your eye that should improve your vision.
Early intervention is key in fighting macular degeneration, so get started by calling Pacific Eye or scheduling an appointment online today.